The six levels of Bloom's Taxonomy, from the lowest to the highest have become a useful guide for teachers while preparing their lesson plans and writing objectives. When students are analyzing, evaluating and creating, in other words, using the higher order thinking skills of Bloom's Taxonomy, deep learning will occur. This will enable them to retain information, perform better on standardized tests, and most importantly, achieve the ultimate goal of becoming lifelong learners. However, this doesn't mean that teachers should ignore the first three levels and only focus on high level thinking. Studies show that a combination of lower and higher questions is more effective than the exclusive use of one or the other. Below you can see the old and revised versions of the taxonomy.
"The graphic is a representation of the NEW verbage associated with the long familiar Bloom's Taxonomy. Note the change from Nouns to Verbs [e.g., Application to Applying] to describe the different levels of the taxonomy. Note that the top two levels are essentially exchanged from the Old to the New version." (Schultz, 2005) (Evaluation moved from the top to Evaluating in the second from the top, Synthesis moved from second on top to the top as Creating.) Source: http://www.odu.edu/educ/roverbau/Bloom/blooms_taxonomy.htm
STUDENT FRIENDLY BLOOM'S TAXONOMY QUESTION STEMS: These question stems in Reading Sage by Sean Taylor are very helpful in teaching students high-order thinking skills. You can post them on the walls of your classroom and want your students to identify the types of questions you asked them for any reading task according to Bloom's taxonomy. Here is an example.
As teachers we shouldn't only focus on asking questions to our students using Bloom's taxonomy, we should also teach them asking questions using Bloom's question stems. Once the students get used to identifying these question types, as a further step, you can ask them to prepare questions according to the taxonomy about the text they are reading. This is a very useful activity for them to internalize high level thinking skills.
Janet Giesen's LIST OF QUESTION STEMS ACCORDING TO BLOOM'S REVISED TAXONOMY includes tasks for each level.
In this slide show, Michael Ball explainshow you can help students develop better thinking skills through higher level questioning to become critical learners. Some teachers claim that the taxonomy – especially the high level questions  – are too difficult to teach the young learners. Mr Ball disproves that by applying Bloom's Taxonomy to Goldilocks and the Three Bears in a very simple way.
EDUCATIONAL ORIGAMI is a blog and a wiki, about 21st Century Teaching and Learning by Andrew Churches. Andrew, who is   a member of the 21st Century Fluency team developing a framework for teaching and learning in the 21st Century, offers great resources on Bloom's taxonomy. If you scroll down, you will also see other valuable resources on 21st century learning, digital citizenship and visible thinking in Andrew's blog.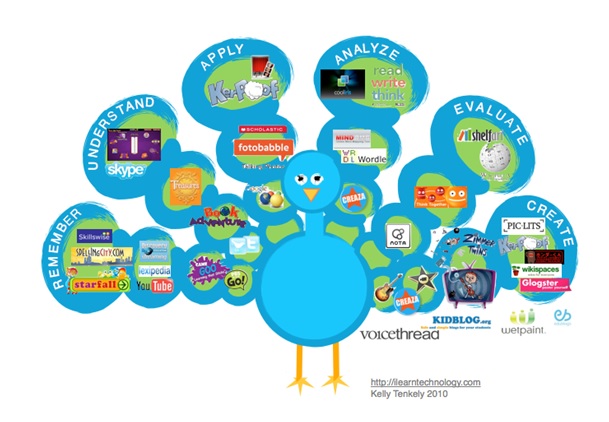 Bloom in Digital Peacock by Kelly Tenkely at ilearntechnology.com.
You can watch BLOOM'S TAXONOMY REVISED ACCORDING TO HOMER SIMPSON on Teacher Tube, an online community for sharing instructional videos.  In this video Homer Simpson demonstrates the six levels of cognitive thinking according to Bloom's Revised Taxonomy.
Larry Ferlazzo has a section in his blog on Bloom: THE BEST RESOURCES FOR HELPING TEACHERS USE BLOOM'S TAXONOMY IN THE CLASSROOM, which will provide you with all the links you need. Please also see CYBRARY MAN'S BLOOM'S TAXANOMY PAGE.
How do you use Bloom's taxonomy in your classes? Please share in the comments section below.
Credits to Keely Terkely at http://ilearntechnology.com